For millennia, conflicts have been fought on land and sea, and in the twentieth century also in the air. In the future, they will likely also be contested in space and even on the web, as new technologies and tactics are used to probe and penetrate enemy defenses.
Modern military planners now think in terms of these five areas as separate but related. Threats can come from one, many, or all at once, and those responsible for maintaining security must devise holistic and effective strategies to deter or counter them.
Today's defense trade show circuit tends to include events that focus on either traditional areas – aeronautics, naval and land – or cybersecurity. The space element is often treated as an offshoot of conventions focused on commercial spaceflight.
Rather than taking this somewhat compartmentalized approach to the challenge, World Defense Show – which will debut in Riyadh, Saudi Arabia early next year – will set itself apart from the competition in that it showcases all five areas, in emphasizing interoperability and integrated solutions.
The event – founded by the Kingdom's General Military Industries Authority (GAMI), a regulator and facilitator of Saudi Arabia's defense sector, and which will take place from March 6 to 9 – will give manufacturers and suppliers of each sector the opportunity to present their products and services at one of the most impressive industry shows ever built.
With 800,000 m² of outdoor space at the exhibition site, just an hour's drive from downtown Riyadh, the World Defense Show will be the only event of its kind to feature both land and air exhibits. It will also be the first show to have its own specially designed runway and dedicated airspace for live military aircraft demonstrations.
Each of the five areas will be animated by virtual simulations and live demonstrations. For example, even though the exhibit location is inland, state-of-the-art interactive visual displays will illustrate how technologies can be integrated into naval systems.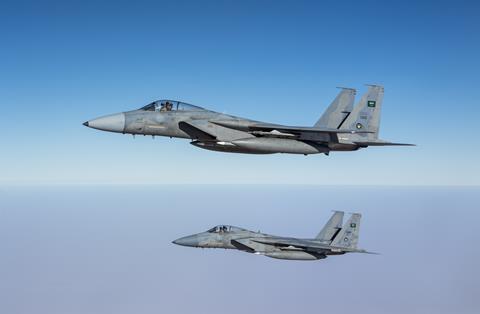 The site should even include a command and control center where visitors can discover the operational harmony between air, land, sea, cyber and space offered by the latest integrated systems on the market.
The organizers of the World Defense Show – who spent nearly two years planning the event in preparation for its official launch in July 2020 – took into consideration a number of trends in the defense industry and the military market. global when designing the format.
First, while the industry has survived the Covid-19 pandemic much better than its commercial counterpart, national defense budgets are likely to remain under pressure for years to come. This will prompt national and military leaders to increasingly seek efficiencies and value-for-money solutions.
Traditional "heavy metals" – ships, artillery, armor and aircraft – will undoubtedly remain vital assets in the defense portfolio. However, unmanned platforms – with surveillance and attack capabilities, and in the air, land, sea and submarines – will play a greater security role. The same will be true for a new generation of compact and less expensive observation satellites.
With the possible exception of the United States, the notion of domestic entrepreneurs deriving the bulk of their income from a domestic client is long gone. Another market change is therefore that defense companies must cooperate across borders, often by establishing industrial partnerships and sharing technologies with their customers.
Finally, the interoperability of defense resources is one of the most important developments. Recent conflicts have shown how vital it is for military commanders to be able to quickly shift their focus from one area to another to deal with security threats, while minimizing loss and collateral damage.
With its substantial military budget, Saudi Arabia is an attractive market for international manufacturers. In addition, there are many partnership opportunities with local industry, with the Riyadh government determined to secure a 50% share of defense procurement for domestic suppliers by the end of this decade, as part of its Vision 2030 strategy.
That in itself is sure to generate interest in the show from some of the biggest players in the global defense industry – many of them have already registered. However, the event's distinct format, focused on interoperability, will also be a major draw for any military professional keen to understand the multi-domain potential of the latest technologies.
The World Defense Show may be the newest name in the defense exhibition calendar, but its organizers have no doubt that with its unique offering to exhibitors and visitors, coupled with Saudi hospitality, the event will be a must-have for thousands of industry executives. and senior military personnel for years to come.
The World Defense Show will be held in the presence of key executives from Saudi Arabia, international delegations and leading industry decision makers from around the world: www.worlddefenseshow.com