Learning spaces
Changing the landscape: Should higher education build outdoor classrooms?
The outdoor spaces have been a boon for the continuity of teaching and learning during the COVID-19 pandemic, providing a solution to issues of safety and social distancing. But they also hold potential for new pedagogical approaches that can improve the student experience.
By Tracey Birdwell, Ph.D., Tripp Harris
06/10/21
IUPUI faculty member Rob Elliot is reinventing an already existing outdoor campus space as a classroom with a few minor additions (Image from Google Maps, 2021).
Stroll around any college campus, and between the buildings you'll find open spaces, sidewalks, and outdoor seating for studying or dining. But what if outdoor classrooms were part of the campus landscape as well?
Many professors took their classes outside last fall in response to concerns about the safety of COVID-19. We recently wrote about how several higher education institutions have taken different approaches to supporting outdoor education on their campuses. From improving WiFi access, to planning considerations, to building tents to protect against the elements, many campuses have taken similar approaches at the institutional level to quickly adapt to efforts to go out for more. formal class meetings. In addition, many teachers have found their own informal ways of taking lessons outside without the general support of their institutions.
What if we consider teaching outside for reasons other than supporting emergency safety efforts or to enjoy a nice day every now and then? What if we considered outdoor education as a valuable learning experience, beneficial for the mental health of students and favorable to certain pedagogical approaches? What if we supported outside education through faculty support initiatives and by providing places for collaboration between instructors, administrators and technology staff? Since the start of the COVID-19 pandemic, the Indiana University Mosaic Initiative has explored some of these questions.
Exterior design symposium
In June, we invited a group of Indiana University professors to our annual Mosaic Design Symposium to examine what types of outdoor learning spaces they would like to use, what features those spaces would offer, where would they like them to be placed on campus and how teaching outside could influence or transform their approaches to student engagement. We brought together faculty, stakeholders from Landscape Services and the IU Capital Projects office, as well as architects and SmithGroup executives via Zoom to design and share ideas on possible developments for open classrooms. air. SmithGroup, an architectural firm, provided initial examples of outdoor classrooms. The professors then individually designed their own spaces, focusing on their discipline-specific pedagogical approaches and locating them on their respective campuses. They also described how they would teach in these outdoor classrooms, the advantages they saw in their spaces, and the potential disadvantages of teaching outdoors.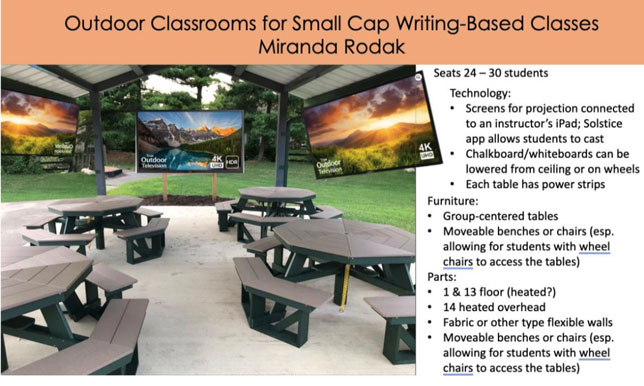 Miranda Rodak, faculty member at IU-Bloomington, conceptualizes a pavilion-inspired outdoor classroom on Indiana University's flagship campus (designed by Miranda Rodak, 2021).
For instructors, the opportunities for outdoor education were plentiful, but with significant challenges. Kalani Craig, professor of clinical history in the Department of History at Indiana University at Bloomington, pointed out that outdoor instructors can even facilitate a disciplinary approach. "I can imagine that an environmental history class could take place in an outside classroom," she said. "This would really help bring that content home. Make it more real. Andy Buchenot, associate professor of English at IUPUI, expressed concern about the accessibility of outdoor spaces: "Accessibility should be at the center of all classroom designs. He said, "When we move the classroom outside, we have to bring that emphasis on accessibility with us…. Outdoor learning spaces offer unique challenges to designers; uneven floor, poor acoustics, and inconsistent light are all issues to consider. Designing for greater accessibility is the best way to create a space that can serve all students. "