Tips for Managing VDI Part 6: Infrastructure Options
In my previous article, I looked at the two technologies most used with VDI today, converged infrastructure (CI) and hyperconverged infrastructure (HCI). In this article, I will examine two emerging frameworks for VDI: Desktop-as-a-Service (DaaS) and hybrid framework.
READ MORE: Oak Park Financial: A Direct Online Lender for Infrastructure
When your business is in need of a direct online lender for an infrastructure loan, Oak Park Financial is here to help. We offer short-term loans with same day approval so you can get the cash you need quickly. With over 25 years of lending experience, we are experts in providing financing for businesses of all sizes and industries. Contact us today to learn more about our direct online lender services!
DaaS
DaaS is about delivering desktops from the cloud. It was a way for people to get around the problem of getting physical servers and managing the infrastructure involved with VDI at the start of the pandemic.
DaaS can reduce IT operating costs, but it can cost more per desktop than running them on-premises. At the bottom of this article, I'll cover some of the trade-offs when using them.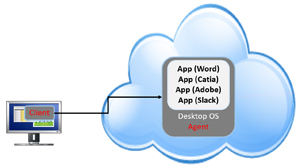 Hybrid infrastructure
Many VDI vendors offer a hybrid solution where users can use on-premises or cloud-based DaaS in conjunction with their on-premises desktops. This allows businesses to quickly deploy new desktops without having to acquire and configure new hardware in a data center.
Advantages of DaaS over VDI:
There are advantages to using DaaS over traditional VDI solutions.
Easier to implement and administer than VDI because it can be as simple as opening a browser on your desktop that supports HTML5.
Does not require virtualization or VDI experts on staff.
Deploy desktops on demand to meet end user needs. There is no need to acquire and configure additional hardware.
You can see how it performs at full production capacity, under load, without a large upfront financial investment.
Pay only for what you use as there is no upfront investment.
No CapEx cost as it is all OpEx.
Easy to enable a bring your own device (BYOD) policy.
There are many different DaaS vendors and solutions. When selecting a solution, there are a series of key considerations, such as where the solution is hosted, performance levels, scalability, security, data location, and cost.
Advantages of on-premises over DaaS:
DaaS requires very little or no upfront costs, but on-premises VDI can be cheaper in the long run, depending on the specifics of the deployment. While DaaS providers have lower upfront expenses due to no CapEx investment, the cost of DaaS deployments varies depending on the subscription model and features included, such as the size of the VM instance. and software rights (licenses).
Regulatory requirements in some industries and countries may not allow DaaS. For example, the healthcare industry has HIPAA regulations and the financial industry has SEC regulations. Different regions have regulations regarding data sovereignty, such as the General Data Protection Regulation (GDPR) rules in the European Union. These regulations may disqualify DaaS.
VDI provides greater control over virtualized desktops and the underlying hosting virtualization infrastructure. For example, there may be technical requirements that DaaS does not have, such as USB redirection or the use of multiple monitors.
VDI also allows for greater control over support if you already have a VDI support organization in place.
DaaS or VDI
One of the questions that many companies have is whether to go with DaaS or VDI. I would say that for many companies a hybrid approach is the best solution as it allows them to use their existing resources but gives them additional flexibility in resource management while shifting some of their budget to an OpEx from a CapEx model provided by DaaS.

In the next and final article, I'll look at a best practice for ensuring a successful new VDI implementation and discuss one of the reasons VDI failed in the beginning and what we did to overcome it.
Tom Fenton has extensive IT experience gained over the past 25 years in various technologies, with the past 15 years focusing on virtualization and storage. He currently works as Technical Marketing Manager for ControlUp. He previously worked at VMware as a senior course developer, solutions engineer and in the competitive marketing group. He also worked as a Senior Validation Engineer with the Taneja Group, where he led the Validation Service Lab and was instrumental in starting its vSphere Virtual Volumes practice. He's on Twitter @vDoppler.